Hipoteken's monthly mortgage model
Unsure whether you could afford a mortgage? To help you budget, we've done a true illustratrion of the cost of buying a Spanish property using products available today.
For this month's example, we've picked a bijou apartment in Palma, Mallorca, on the market for €595,000. Read on to see how affordable your monthly repayments could be and what your total outlay (completion costs) would be to secure the property – or a similar one with the same purchase price.
For fun-packed short breaks or laid-back year-round living, this bijou apartment in the beating heart of Palma is the ideal base for experiencing everything the cosmopolitan capital of Mallorca and Balearic Islands has to offer.
Located on the busy shopping street of Carrer de Sant Miquel, opposite historic Santa Margarita church, it's surrounded by fantastic architecture and within walking distance of the city's Old Town, with its grand plazas and shady streets, and famous palm-fringed seafront promenade. Needless to say, there are countless bars, restaurants and night spots on its doorstep.
With a bright, contemporary interior, the apartment's 120 square metres of living space includes three bedrooms, two bathrooms, large living-dining area and fully equipped modern kitchen with cooking island. Not forgetting there are two balconies overlooking the street and church, one accessed from the living area and the other from a bedroom.
On the market with local agent Mallorca Consultants, this apartment is an easy 20-minute taxi or 30-minute shuttle bus ride from Palma Airport. So it's easy to get to anytime of year. And once there, it would make an exciting base for exploring the rest of Mallorca, famous for its diverse landscape, chic marinas, fashionable beach resorts and pristine golf courses.
Purchase price: €595,000 (excluding taxes and fees)
Tempted? Have a look at how affordable this property could be with a Hipoteken mortgage, outlined below. We've worked out an example based on the buyer paying a 30% deposit.
For a more complete picture, we've also included approximate costs for all fees and taxes that would come with purchasing this property.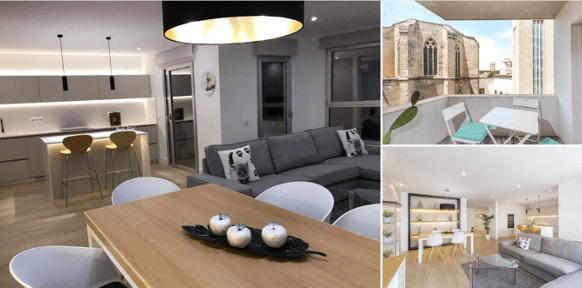 Mortgage Option (30% deposit)
Mortgage product: 2.10% interest rate fixed for a 25-year term
Property price:    €595,000
Mortgage value (70% LTV):    €416,500
Monthly repayment:    €1785.70                   
Deposit (30%):    €178,500
Buying costs (notary/ fees/ taxes):    €59,450
Mortgage set-up charges:    €7,948
TOTAL:    €245,898
In summary: to purchase this property with a 30% deposit, a qualifying buyer would need to pay in the region of €245,898 (including all costs) and would then have monthly mortgage repayments of €1,786.70 fixed for 25 years.
Monthly repayments could be reduced to €1,569.30 by opting for a variable rate deal based on products available today.
Whether you're buying in Spain as a non-resident or resident, speak to Hipoteken's experienced team of mortgage brokers to discuss your mortgage options. After assessing your financial profile and personal requirements, we'll find you the right product. If you're ready to start house-hunting, your next step could be to secure a Agreement in Principle – we're here to help.
Disclaimer – The above examples are based on mortgage products available through Hipoteken at the time of publication, however they are meant as a guide only and cannot be guaranteed to any client at any time. As a guide, shorter mortgage terms will mean higher interest rates. The featured property was available to purchase at the time of publication but its availability cannot be guaranteed to any client at any time. The included buying fees/charges are also meant as a guide only.