Hipoteken's monthly mortgage model
Interested in purchasing a luxury Spanish home with a mortgage? To help you budget, we've done a true illustratrion of the cost of buying a high-end property using products available today.
For this month's example, we've picked a magnificent new villa in Málaga city in the Costa del Sol, on the market for €1,450,000. Read on to see how affordable your monthly repayments could be and what your total outlay (completion costs) would be to secure the property – or a similar one with the same purchase price.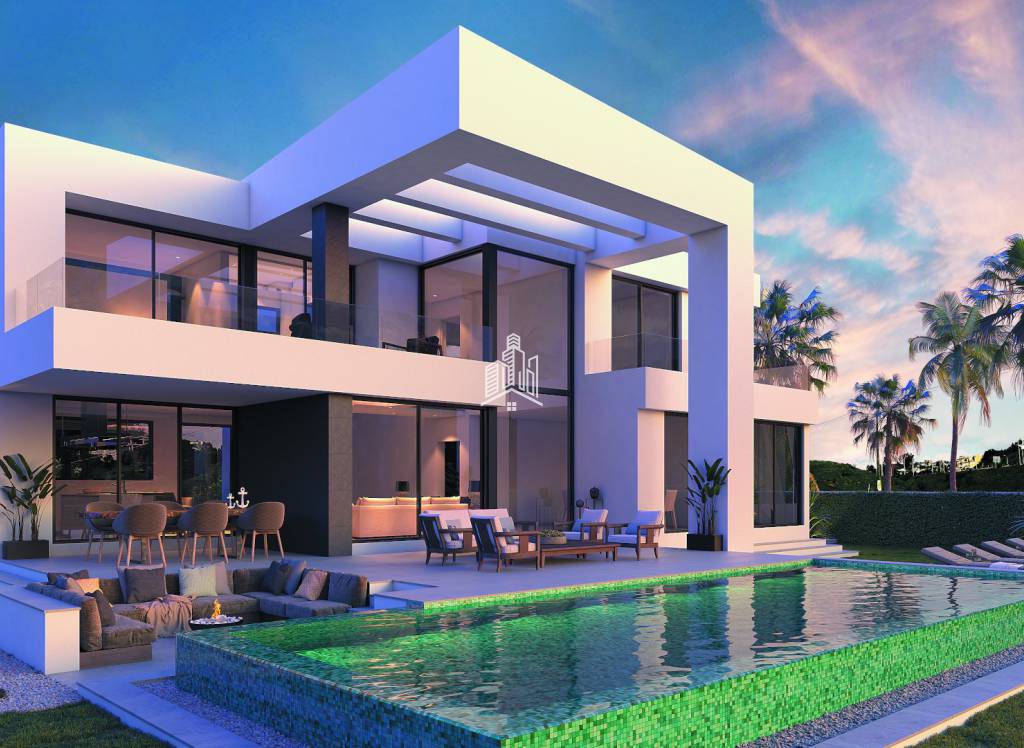 This stunning four-bedroom villa occupies an elevated site in the peaceful green suburbs of Málaga, giving it panoramic views of the city and sparkling Mediterranean. Ultra-modern and architecturally bespoke, the brand-new property is part of the boutique El Mirador development within the Colinas del Limonar urbanisation.
Built over three storeys, highlights on the ground floor include a large hall, huge airy living area, fully equipped integrated kitchen and single bedroom. Upstairs, the master bedroom is en-suite, while the remaining two bedrooms share a bathroom, but all have access to wonderful terraces. Throughout this stunning home are floor to ceiling windows and contemporary French windows that optimise natural light and the breath-taking views. Not forgetting the basement, which is ideal for storage but could be used as a home cinema or games room, or converted into further accommodation.
The property sits on a large 535-square-metre plot. The rear south-facing terrace, which flows seamlessly from the interior living space, includes a large outside dining area which leads to an infinity pool. The remaining space includes a landscaped garden, outside parking space and two-car garage.  
On the market with Costa del Sol agent JT Estates, this upmarket development is just five minutes' drive from culturally rich Málaga city-centre, with its seafront promenade, historic old town, majestic shopping streets and countless tapas bars and restaurants. The city's famous beaches are equally accessible, while Málaga airport is just 15-20 minutes' drive away.
Our featured property is one of ten within the development. The interior layout, including the number and distribution of bedrooms, and the exterior landscaping are different for each property, so interested buyers can choose the one best suited to their taste and budget.
Purchase price: €1,450,000 (excluding taxes and fees)
Have a look at how affordable this property could be with a Hipoteken mortgage, outlined below. We've worked out an example based on the buyer paying a 30% deposit.
For a more complete picture, we've also included approximate costs for all fees and taxes that would come with purchasing this property.
Mortgage Option (30% deposit)
Mortgage product: 2.10% interest rate fixed for a 25-year term
Property price:    €1,450,000
Mortgage value (70% LTV):    €1,015,000
Monthly repayment:    €4,351.71                   
Deposit (30%):    €435,000
Buying costs (notary/ fees/ taxes):    €180,600
Mortgage set-up charges:    €10,950
TOTAL:    €626,550
To summarize: to purchase this property with a 30% deposit, a qualifying buyer would need to pay in the region of €626,550 (including all costs) and would then have monthly mortgage repayments of €4,351.71 fixed for 25 years.
Monthly repayments could be reduced to €3,833.53 by opting for a variable rate deal based on products available today, an option that attracts an early redemption fee of just 0%-0.25%.
Whether you're buying in Spain as a non-resident or resident, speak to Hipoteken's experienced team of mortgage brokers to discuss your mortgage options. After assessing your financial profile and personal requirements, we'll find you the right product. If you're ready to start house-hunting, your next step could be to secure a Agreement in Principle – we're here to help.
Disclaimer – The above examples are based on mortgage products available through Hipoteken at the time of publication, however they are meant as a guide only and cannot be guaranteed to any client at any time. As a guide, shorter mortgage terms will mean higher interest rates. The featured property was available to purchase at the time of publication but its availability cannot be guaranteed to any client at any time. The included buying fees/charges are also meant as a guide only.