Your own slice of paradise for less than €800 a month
Imagine watching the sun set over Torrevieja's famous Pink Lake from the comfort of the large private terrace of your brand-new high spec apartment in Los Balcones, Torrevieja.
You might think this is just not affordable, but to help you budget, we've done a true illustration of the cost of buying this spectacular new build apartment in Los Balcones, Torrevieja, which is on the market for €220,900. We have used mortgage products available today for the simulation and calculations are also valid for similar properties with the same market price.
Read more to see what your monthly repayments and total outlay could be to secure your own luxury slice of paradise in sunny Spain.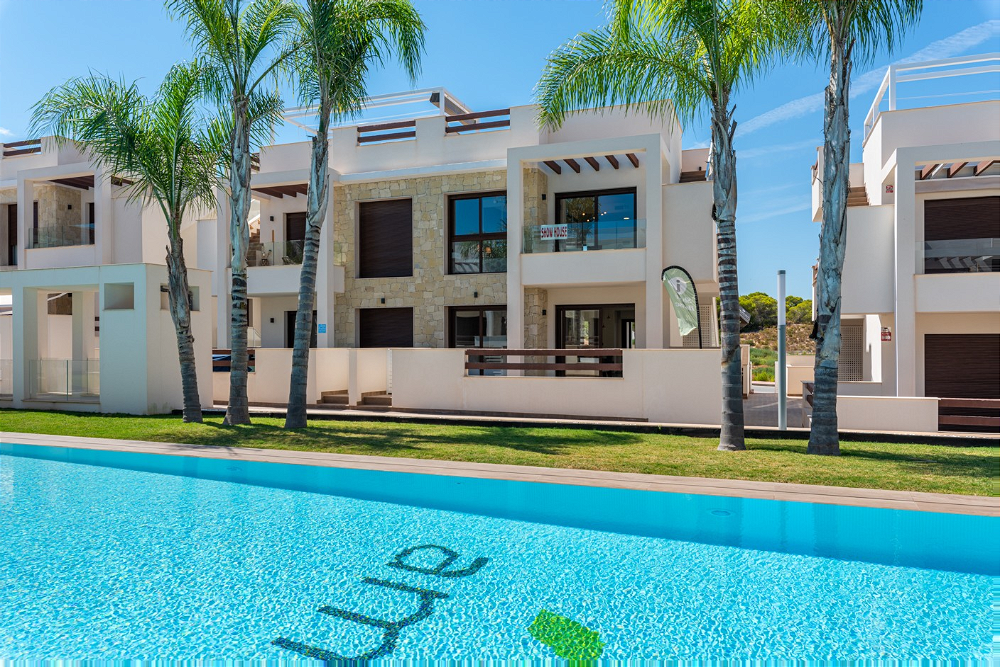 Only 3km from Spain's Mediterranean Coast and bathed in sunshine for 300 days of the year, these two-bedroom, two-bathroom apartments are also walking distance to a plethora of shops, bars and restaurants.
The apartments themselves consist of a bright multifunctional living-dining room, a modern open plan kitchen with a breakfast bar and glass patio doors that lead onto a large private sun terrace. There is a master bedroom with an en-suite bathroom, another double bedroom and a guest bathroom. Both bathrooms enjoy underfloor heating.
Outside, you will be blessed with beautifully groomed communal gardens and two enormous swimming pools to cool off in the hot summer months.
At the time this article was published, only 10 units remained available, including a choice of three-bedroom or two-bedroom apartments on either the ground floor or penthouses.
All apartments will also have an option for adding underground parking and/or storage unit and construction will be completed by December 2024.
Los Balcones is one of the most sought-after areas of Torrevieja, with plenty of leisure activities and attractions including the Torrevieja Natural Park Lagoons, beaches and coves of soft white sand and transparent waters, four Golf Courses and renowned La Zenia Boulevard Shopping Centre, the largest in Alicante.
Purchase price: €220,900 (excluding taxes and fees)
Have a look at how affordable this property could be with a Hipoteken mortgage, outlined below. We've worked out an example based on the buyer paying a 30% deposit.
For a more complete picture, we've also included approximate costs for all fees and taxes that would come with purchasing this property.
Mortgage Option (30% deposit)
Mortgage product: 3.75% fixed interest rate for 25 years
Property price:    €220,900
Mortgage value (70% LTV):    €154,630
Monthly repayment:    €795.00
Buyer's completion costs
Deposit (30%): :    €66,270
Buying costs (notary/ fees/ taxes):    €30,504
Mortgage set-up charges:    €3,450
Total:    €100,224                   
To summarize: To purchase this property with a 30% deposit, a qualifying buyer would need to pay in the region of €100,224 (including all costs) and would then have fixed monthly mortgage repayments of €795.00 for 25 years.
Whether you're buying in Spain as a non-resident or resident, speak to Hipoteken's experienced team of mortgage brokers to discuss your mortgage options. After assessing your financial profile and personal requirements, we'll find you the right product. If you're ready to start house-hunting, your next step could be to secure an Agreement in Principle – we're here to help.
Disclaimer – The above examples are based on mortgage products available through Hipoteken at the time of publication, however they are meant as a guide only and cannot be guaranteed to any client at any time. As a guide, shorter mortgage terms will mean higher interest rates. The featured property was available to purchase at the time of publication but its availability cannot be guaranteed to any client at any time. The included buying fees/charges are also meant as a guide only.