Hipoteken's monthly mortgage model
Unsure whether you could afford a mortgage? To help you budget, we've done a true illustratrion of the cost of buying a Spanish property using products available today.
For this month's example, we've picked an apartment in Tenerife, Canary Islands, on the market for €235,000. Read on to see how affordable your monthly repayments could be and what your total outlay (completion costs) would be to secure the property – or a similar one with the same purchase price.
Year-round sunshine and incredible views are guaranteed with this modern apartment on Tenerife's stunning west coast. Recently reduced by €5,000, the property is part of the popular Balcón de los Gigantes complex in Puerto de Santiago. In an elevated location on the top floor and boasting a northwest aspect, it has fantastic panoramas of the famous Los Gigantes cliffs, the sparkling Atlantic Ocean and the communal pool area.
The 100 square metres of living space includes a hall, two airy bedrooms, two bathrooms (one en-suite) and an open-plan living area with a fully equipped kitchen and lounge. A highlight is the large balcony, accessed by both bedrooms and the living area. On the market with local agent Costa Tenerife Inmobiliaria, the property has been renovated to a high standard and has bright, fresh colours throughout. It's being sold fully furnished and with fully functioning air conditioning and its own parking space.
The Balcón de los Gigantes apartment complex occupies a prime spot facing the sea and within easy walking distance of the promenade, shops, bars and restaurants. Built around a large outdoor pool with an extensive sun terrace, bar and free Wi-Fi, the popular La Arena beach is also just a short stroll away.
Tenerife's balmy winter temperatures of 18ºC-21ºC mean this property and the Canarian beach lifestyle can be enjoyed anytime of the year. And getting there is easy, thanks to regular flights to Tenerife Sur airport from the UK and EU countries. Transfer to the complex is just 35 minutes' drive, with the option of a shuttle service.
Purchase price: €235,000 (excluding taxes and fees)

Have a look at how affordable this property could be with a Hipoteken mortgage, outlined below. We've worked out an example based on the buyer paying a 30% deposit.
For a more complete picture, we've also included approximate costs for all fees and taxes that would come with purchasing this property.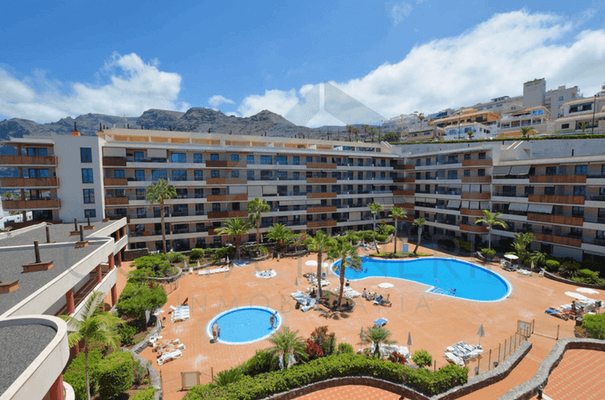 Mortgage Option (30% deposit)
Mortgage product: 2.10% interest rate fixed for a 25-year term
Property price:    €235,000
Mortgage value (70% LTV):    €164,500
Monthly repayment:    €705.28                   
Deposit (30%):    €70,500
Buying costs (notary/ fees/ taxes):    €20,225
Mortgage set-up charges:    €2,918
TOTAL:    €93,643
To summarize: to purchase this property with a 30% deposit, a qualifying buyer would need to pay in the region of €93,643 (including all costs) and would then have monthly mortgage repayments of €705.28 fixed for 25 years.
Monthly repayments could be reduced to €621.30 by opting for a variable rate deal based on products available today.
Whether you're buying in Spain as a non-resident or resident, speak to Hipoteken's experienced team of mortgage brokers to discuss your mortgage options. After assessing your financial profile and personal requirements, we'll find you the right product. If you're ready to start house-hunting, your next step could be to secure an Agreement in Principle – we're here to help.
Disclaimer – The above examples are based on mortgage products available through Hipoteken at the time of publication, however they are meant as a guide only and cannot be guaranteed to any client at any time. As a guide, shorter mortgage terms will mean higher interest rates. The featured property was available to purchase at the time of publication but its availability cannot be guaranteed to any client at any time. The included buying fees/charges are also meant as a guide only.