It was Friday afternoon, I was panicking, then Daniel (at Hipoteken) picked up the phone…
Faced with the possibility of losing her €26,500 deposit on an apartment in Torrevieja due to not being able to secure a mortgage in time, former Construction Superintendent from Calgary Belinda Chan got on the phone to Hipoteken and within a couple of days had two offers on the table.
"I was starting to panic because we had to meet a deadline and I had to get it extended twice so I started going through the internet and calling people and it was Friday afternoon and I was really panicking. And then Daniel (Morante – mortgage advisor at Hipoteken) picked up the phone and the next thing you know I had two decent offers," Ms. Chan said.
Ms Chan and her husband Rainer Herzinger from Germany secured their mortgage through Hipoteken and were able to complete the purchase of their three-bedroom, two-bathroom, fully renovated frontline beach apartment in Torrevieja for €265,000 in June this year.
When asked about the whole process, Ms Chan, who currently lives in Switzerland with her husband and two children aged 12 and 15, said she was surprised by how long things took.
"I thought that getting a local bank (to secure a mortgage) would probably be the best. But it was a nightmare. It was like they didn't want my business. They just didn't get back to me. I kind of didn't realise that and I gave myself a deadline that was way too enthusiastic," Ms Chan admitted.
"I think he (Daniel) understood my urgency, he asked me for whatever he needed, I sent him stuff, we were in contact over the weekend and BOOM! He got me two decent offers and I went with one of them," she said.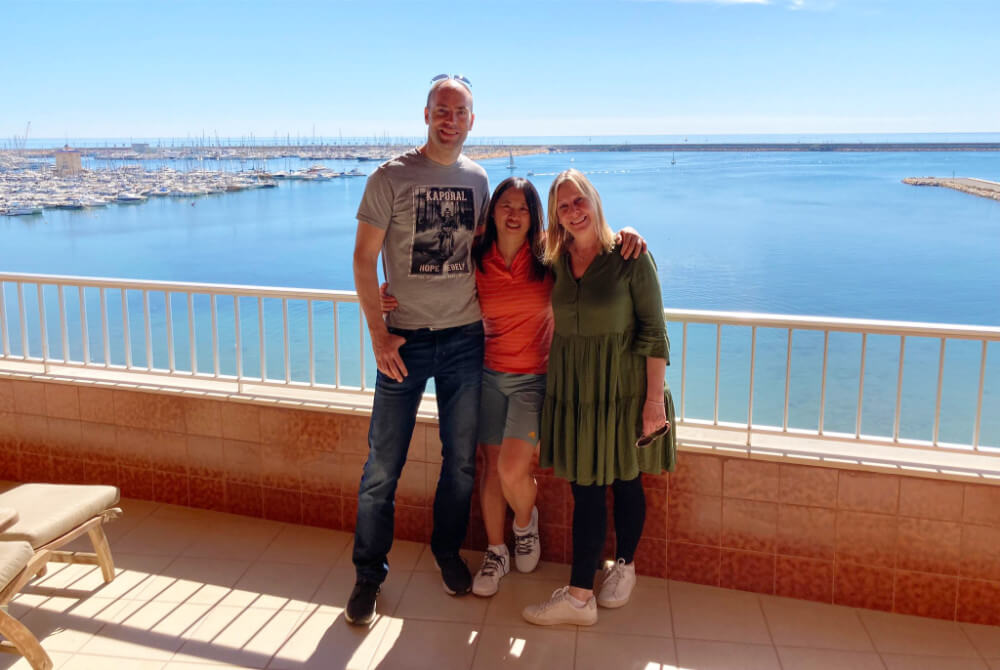 "At the end of the day I just said I'm going with Daniel because he comes through for you, right? And I liked that he spoke such good English because it was really clear communication," she said.
Ms Chan also dealt with and had words of praise for Hipoteken Completion Coordinator Luis Grateron.
"I like to build relationships with people that I like and I trust and I see results so right now I am trying to get my friend, well, all my friends, and introduce them to the people who came through for me. My friend doesn't need a mortgage, but if she had done, I would have totally sent her your way (to Hipoteken)."
Ms Chan said her family had always liked Spain and that "nobody wants to retire in Switzerland because it is too darn expensive!"
Ms Chan is coming back to Spain with her family and her friend at the end of July to spend a couple of weeks by the beach and hopes her friend will also buy a property while she is here.
"If I can get one or two of my friends to buy here, then maybe they will all come," she joked.
Got more questions about mortgages, or a more general enquiry about mortgages in Spain?
Don't hesitate to contact Hipoteken for a no-obligation chat with one of our experienced specialists.
You can call us direct on (0034) 960 599 967, email us at info@hipoteken.com or fill in the form on our Contact page.