The good news is yes, you can...
Providing you invest €500,000 in the property itself (not including costs), you can then apply for a mortgage to cover the rest of the purchase and still be eligible for a Golden Visa in Spain.
By way of example, here is a simulation complying with the required investment of €500,000 in savings and involving a mortgage of €623,000, which is 55% LTV. It is however worth noting that non-residents in Spain are eligible for up to 70% LTV, but this simulation has been done at 55% to comply with the cash investment requirement of Golden Visa applicants.
The simulation is based on a stunning 3 bedroom,  3 bathroom luxury new build villa in Denia marketed exclusively by HomeEspaña at a price of €1,123,000.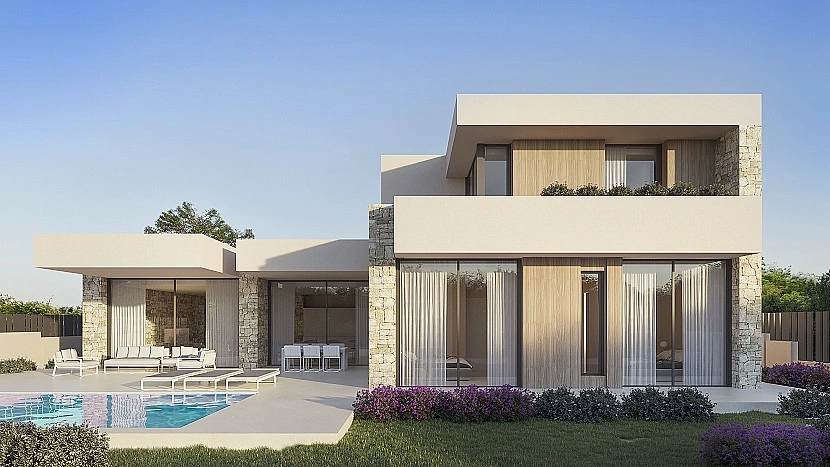 This new build villa has a built size of 236m², split over two floors. The ground floor boasts a spectacular open-plan area encompassing the kitchen and island, dining room and living room with access via floor-to-ceiling glass doors to a 70m² deck that looks onto a 33m² private swimming pool. This floor also has two double bedrooms, both with en-suite bathrooms and also with access via glass doors to the garden, pool and deck area.
The top floor is home to the master bedroom, complete with en-suite bathroom, walk-in wardrobe and private terrace.
The property comes with underfloor heating, complete LED lighting inside and out, fully installed hot and cold air conditioning, solar panels, security glass, motorised interior curtains, complete Bosch kitchen appliances, pre-installation for Fibre Optic internet, off-road parking for two cars and landscaped gardens.
This luxury villa will be completed with the highest standard of materials and offer energy efficiency throughout.
The house is part of a gated and secure, private residential complex of 11 modern luxury villas located at the foot of the Montgo Mountain and just 900m from the bustling centre of the seaside town of Denia. The complex is also walking distance to the Marina and the beach.
There are seven different models of villa designed specifically for each plot to make the most of the winter sun while maintaining privacy between neighbours. Licences are already in place, so construction can commence immediately and total build time from start to finish will be 14 to 15 months.
Purchase price: €1,123,000 (excluding taxes and fees)
Have a look at how affordable this property could be with the Hipoteken mortgage outlined below. For a more complete picture, we've also included approximate costs for all fees and taxes that would come with purchasing this property.
Golden Visa Mortgage Option
Based on a fixed interest rate of 3.75% over a term of 25 years
Property price:    €1,123,000
Purchase costs (Notary, Fees, Taxes):    €139,945
Mortgage costs:    €8,150
Total purchase price including all costs:    €1,271,095
Savings required:    €648,095
Mortgage contribution (55% Loan-to-Value or LTV):    €623,000*
Monthly repayment:    €3,203.04                   
* Mortgages of up to 70% LTV or €786,100 are possible for this villa, but we have reduced this amount to demonstrate how you can combine savings and a mortgage to qualify for a Spanish Golden Visa.
To summarize: in order to buy this spectacular property and be eligible to apply for a Golden Visa in Spain, you will need savings to cover the required investment in the property, along with the costs of the purchase and the mortgage, which come to a total of €648,095.
The mortgage would cover the rest of the purchase and monthly repayments would be €3,203.04 over a period of 25 years.
Whether you are buying in Spain as a non-resident or a resident, speak to Hipoteken's experienced team of mortgage advisors to discuss your options. After assessing your financial profile and personal requirements, we will find you the right product. If you are ready to start house-hunting, your next step could be to secure a pre-approval of your mortgage – we are here to help.
Disclaimer – The above example is based on mortgage products available through Hipoteken at the time of publication. However, they are meant as a guide only and cannot be guaranteed to any client at any time. As a guide, shorter mortgage terms will mean higher interest rates. The featured property was available to purchase at the time of publication but its availability cannot be guaranteed to any client at any time. The buying fees/charges included are also meant as a guide only.